pGDN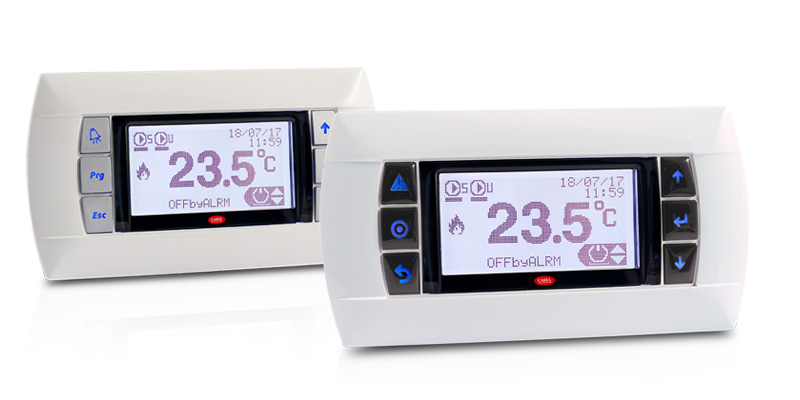 Características gerais

The pGDN semi-graphic terminals are part of the range of pCO sistema user interfaces designed to offer higher versatility and extensive customisation possibilities. When designing these terminals, CAREL focused special attention on simplicity of programming and the quality of performance, while maintaining a high aesthetic standard. The terminals have a 132x64 pixel backlit WHITE display and a 6-button keypad.
pGDN features a keypad that repeats the symbols used on the pCO5+/pCO5+HS/c.pCO controllers.
These terminals can display graphic symbols of various sizes and the main international alphabets, and feature the flexibility and ease of customisation that is the basis for the design of the CAREL pCO/c.pCO sistema family products, offering more demanding customers several customisation possibilities at affordable costs, even for limited quantities. Connection to the pCO controller is available over the RS485 network using the pLAN protocol.

Mais

New hardware

PGN use a full new generation of microprocessors and LCD drivers.

Higher alarm visibility

Thanks to the dual-color alarm keys, the alarming indication is much easier to see.

Preserve backward compatibility

The code replacement is fully guaranteed by the HW and SW backward compatibility with pGD0 and pGD1/E.
Documentação
Technical
2D/3D drawings

* Entries are ordered by date

Código
Descrição
Idioma
Data *
Versão

Código

2d-3d pGD1 panel

Descrição

2D-3D drawings

Idioma

ALL

Data

14/01/2014

Versão

R0

Technical Leaflets

* Entries are ordered by date

Código
Descrição
Idioma
Data *
Versão

Código

+05C001425

Descrição

pGN0 / pGN1 / pGNE pCO 图形显示手操器 / pCO Graphic Display

Idioma

CHI ENG

Data

13/04/2023

Versão

1.3

Código

+050001425

Descrição

pGN0 / pGN1 / pGNE pCO display grafico / pCO Graphic Display

Idioma

ENG ITA

Data

13/04/2023

Versão

1.3
Commercial
Other related documentation

* Entries are ordered by date

Código
Descrição
Idioma
Data *
Versão

Código

+800004031

Descrição

Solutions for Air Handling Units: Technology and expertise for indoor air quality and energy saving

Idioma

ENG

Data

05/04/2023

Versão

1.2

Código

+800004030

Descrição

Soluzioni per Unità Trattamento Aria: Tecnologia e competenza per la qualità dell'aria e il risparmio energetico

Idioma

ITA

Data

05/04/2023

Versão

1.2
Images
High resolution images

* Entries are ordered by date

Código
Descrição
Idioma
Data *
Versão

Código

PH17LPG301-pGDN

Descrição

pGDN-CAREL-TerminalsUnit-Terminals

Idioma

ALL

Data

01/09/2021

Versão

R.0